Welcome to 2 part of our holiday survival guide: hosting. We share seven more of our favorite voice assistant hacks to truly impress your guests with your incredible hosting skills!
1. Make Storytime Even More Magical
Bring some storytime magic with the help of your smart assistant. Add audio drama and personalize tales as you try to reassure giddy little ones that Santa will indeed drop off their gifts on the 24th.

Some of our favorite story options are:
Disney and Little Golden Books (Google Home only) — add magic to your read-along with interactive features such as music and other special effect sounds to make story time truly immersive. To get started, just say "Hey Google, let's read along with Disney." Or, indicate the specific book title you'd like to read, "Hey Google, read along with Frozen."– for a winter themed story.

Short Bedtime Story Alexa Skill | Google Action — this highly popular voice app allows the stories to be personalized with the child's name. It will surely make bedtime reading quick, easy, and enjoyable! To launch, say, "Alexa/Hey Google, launch Bedtime Story."
Want to go full on Christmas classic? You can listen to The Night Before Christmas on your Alexa enabled device.
2. Audio and Video Calls
Ring the North Pole and chat with Santa
If you have kids or a young at heart crowd, give Santa a Claus a call on your device. To get started say, "Alexa/Google, open Call Santa,"
Pro tip: Use a screened device for a fun accompanying video.
Stay connected with loved ones
Don't let physical distance keep your loved ones away. Use your smart speaker to stay connected! Calling is as easy as just telling your device to do so. Simply say, "Alexa/Hey Google, call Grandpa."
4. Baking and Cooking Recipes and Ideas
One of our favorite things to do over the holidays is baking, and one of our favorite uses of our voice assistant is recipe finding. So why not combine both for a smoother experience in the kitchen?

Whether you are looking to expand your recipe repertoire or sticking to your favorite dishes, use your voice assistant as your trusty sous chef to help you with recipe ideas or cooking tutorials.

Best part of using voice? You can search recipes (hands free!) or have ingredients and steps read out to you without any splatter on your precious book cooks!
To discover recipes simply ask your device to show you recipes for dishes you desire.

Pro tip 1: Have an ingredient that you'd like to try out, but no idea of what do with it? Ask your recipe for ideas! For example, "Alexa/Hey Google, find me a recipe for brussel sprouts."

Pro tip 2: Have a recipe in mind, but forgot the measurements for the entire thing or a part of it, or the cooking temperature? Just ask your device for help! Ex, " Alexa/Hey Google, what temperature should sugar cookies bake on?" Here are some handy skills to try:

Best Recipes Alexa Skill
Food Network Alexa Skill | Google Action
Tasty Google Action
Recipes by Course Google Action
5. Set and Track Timers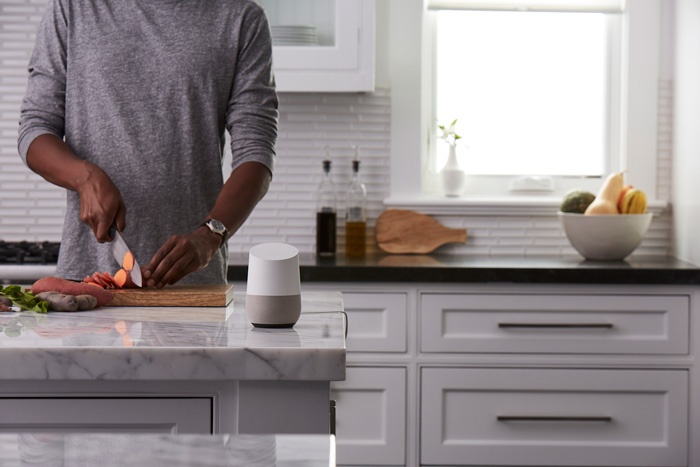 We've said this again, and we'll say it again: use your assistant to help you keep track of things. Set up timers in the kitchen to remind you when to check on or turn items in your oven, or when to turn off the stove.

Best part, you can set multiple timers and name them! Simply say, "Alexa/Hey Google, start a cookies timer for 25 minutes." You can also check up on the timer, reset, pause, or cancel it.
6. Get Ideas for Creative Beverages
We've got the food and baked goods down, but what about accompanying beverages? Ask your assistant to help you with ideas.
For non alcoholic drinks such as hot chocolate or eggnog, you can use the same recipe finders listed above. For adult beverages, you can rely on Alexa skills like Mixologist or Patrón Tequila and Google actions like Tender or Wine Guide.
7. Ask for Facts

Use your device to answer questions such as facts about the holidays or days left.
For instance, "Alexa/Hey Google, When is Kwanzaa?," "Alexa/Hey Google, how much longer until the New Year?" or "Alexa/Hey Google Google, can you name Santa's reindeer"
---
Wishing you all a festive and restful holiday season!
If you found this post helpful, share it with other voice tech enthusiasts. Also make sure to follow this blog if you want to see more!